Product details
product details
---
Advanced Collagen Plus Introduction
Have you ever known….
Collagen is a protein central to the elasticity and regeneration of our skin.
It's responsible for keeping skin firm, plump, smooth and young-looking.
After the age of 25, the natural production of collagen starts to drop by 1% each year.
The Controlled Release Technology with superior coating and entirely wrapped the advanced collagen formulation which has 3 x times absorption Enhancement.
The advanced collagen formulation 2nd edition also contains the premium standard of Hyaluronic Acid.
High Quality of Fish Collagen
Best selected of world-renowned patented fish collagen! Through the additional manufacturing process, such as Low Temperature Techniques and Hydrolysis Technology which make the collagen molecular weight is reduced to less than 2000 kDa.
It's the most appropriate molecular structure for human body absorption!

Controlled Release Technology
With exceptional formulation of coating which completely wrapped the collagen and certainly absorption.
Enhancement after delivered to the intestine regions without being damaged by stomach acid once taken orally .
Vitamin C Enhancement
Vitamin C's powerful antioxidant function helps increasing the collagen level and protect the cells from DNA damage.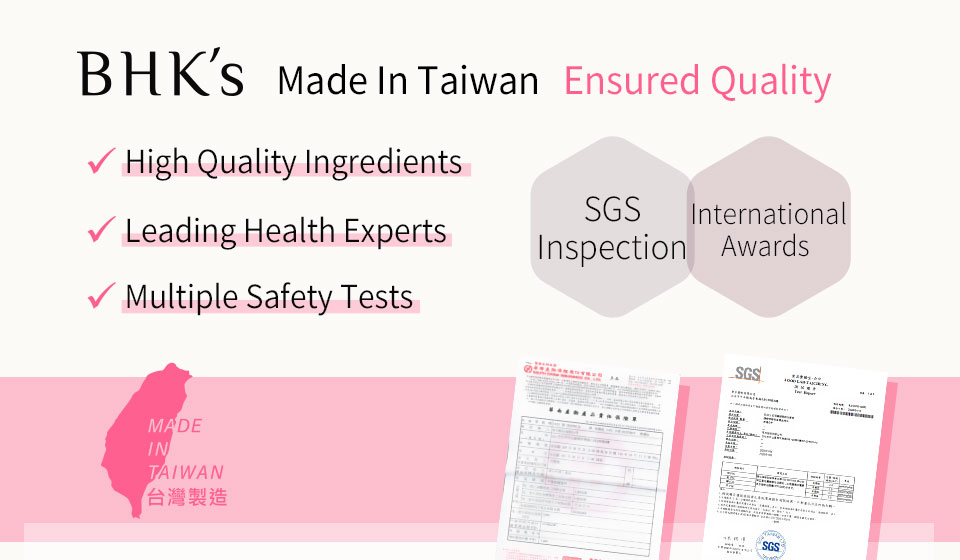 Product
BHK's─Advanced Collagen Plus
Main Ingedients


(per tablet)

Hydrolyzed Fish Collagen Peptides、, Bio-Cell Collagen(Ascorbic Acid 97% Granulation)、Vitamin C
Package Quantity
30 Tablets/bag
Suggested Use
Take 2 tablets daily after meal.
For better results,take 2 tablets twice a day after meal.
DO NOT take more than 6 tablets per day.
Retention period
3 years
Expiration Date
Printing on the package(Year/Month/Day)
Place of Origin
Taiwan
Preservation Methods
Keep out of direct sunlight,high temperature and moist environment.
CAUTION
1. Those who are allergic to fish should avoid eating.
2. The nature of ingredients may cause slight change in color. This does not change product effectiveness.